Chicago Style Italian Beef!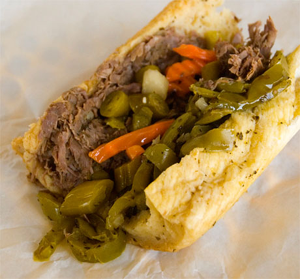 Created on the Sout Side of Chicago (no "h" used in South), in the Italian enclaves around the now defunct Stockyards, the classic Chicago Italian Beef Sandwich (pronounced sangwitch) is a unique, drippy, messy variation on the French Dip Sandwich.
So you wanna know what makes it so good? The perfect Italian beef sandwich begins with slow oven roasted, perfectly Italian seasoned beef, tender and extremely lean, sliced amazingly thin. Spices and seasonings used in its preparation include only the freshest natural products that ultimately produce our 100% natural beef gravy. Our Italian beef sandwiches are served on fresh Italian Bread, crisp on the outside and soft on the inside. The sandwich can then be "dipped" in the natural juices of the beef and garnished with sweet peppers or our original homemade hot peppers (giardiniera). The spices we use in the giardiniera are designed as a perfect compliment to our Italian beef seasoning.
[Note: In Chicago-speak, "gravy" as it relates to an authentic Italian beef sandwich is not that thick gooey stuff you pour over turkey, but rather a thin, highly seasoned, aromatic juice that seeps into every crevice of the sandwich.)